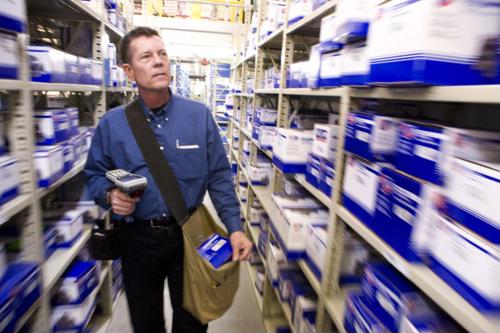 Competition is what drives modern commerce. A recent article on the Harvard Business Review blog looked at some of the most powerful forces that influence the strategies businesses put in place. As outlined by the article, these factors include customers, suppliers, potential newcomers to an industry and innovative products that replace existing ones. In the manufacturing sector, all of these forces influence the daily operations to different extents and effects.
The real test many organizations face is mitigating the risks associated with these variables and creating a flexible and powerful internal information technology framework that compensates and adjusts for fluctuations in larger market forces. At the core of many manufacturing companies' operations and strategy is warehouse management.
Barcoding Technology Helps Set Manufacturers Apart
Among distribution centers, a key differentiator is being able to manage inventories spread across multiple facilities and the ongoing transfer of goods between multiple locations. Barcoding and automated data collection technologies have played a big part for major retailers like Wal-Mart and Toys R Us, explained HBR. With increasing competition from other major commercial enterprises, the companies with the most accurate and efficient warehouse and inventory management systems will be at an advantage over those that continue operating using traditional solutions. These include manual, paper-based processes for tracking inventory, picking and transfers.
A recent RFgen white paper - "Tomorrow's Warehouse Today: Three Technologies for Exceptional Operational Efficiency" - highlights the need among distribution center managers to optimize their workflows. More than half of these individuals indicated inventory control presents the greatest opportunity to increase efficiency and lower costs. According to 47 percent of managers, improving picking processes can have a substantial impact on warehouse workflows.
How Does Barcode Scanning Improve Operations?
First and foremost, barcoding helps to eliminate a number of paper-based processes, which are one of the top detractors from efficiency in any manufacturing setting. Whether the warehouse procedure in question is receiving purchase orders or picking items for transfer or delivery, physically keeping track of data with a pencil and paper is extremely inefficient. Once the information is collected on a document, there's no guarantee it will present data in a uniform fashion that is universally understood. Handwriting can contain spelling mistakes and other written errors that, once entered into an ERP, will corrupt a central record-keeping system.
With an automated data collection solution, manufacturers have an opportunity to not only increase accuracy but also the speed at which a warehouse functions. In fact, these are two of the most important aspects of barcode scanning. Manufacturers can deploy pre-printed barcodes in their warehouse environments, which gives employees the freedom to use wireless equipment to scan inventory to gather crucial data and immediately store it in an ERP. Instead of having to enter information through a keyboard, barcode scanning works five to seven times faster than manual processes. There's also an advantage in that the average error rate for barcoding is one in 3 million entries. On the other hand, employees produce one error in every 300 keystrokes when manually inputting information.
What Are Manufacturers' Goals with Barcoding?
Given the efficiency brought to an organization through barcode scanning technology, it's not altogether surprising more organizations are planning on integrating wireless devices. The RFgen white paper cited research from electronics manufacturer Motorola, which found 66 percent of warehouse managers and IT workers said they're planning to equip warehouse staff with scanners and other hand-held technology with increasing frequency.
Ultimately, more manufacturing organizations are hoping to increase automated data solutions in their facilities within the next five years. Manufacturers should act now to stay ahead of the curve.