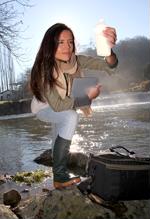 Data collection has become much more prominent across multiple industries, as have the tools for getting it done. Tablets are one such instrument that can be utilized to create new efficiencies, such as connections to barcode scanners and wireless connections to menu displays, according to mobile professional Lisa Falzone on TabTimes.
"Tablets are streamlining processes and providing self-service capabilities to customers in many workplaces today, including retail stores, car dealerships, real estate offices, construction firms and hotels," she said. "It's no longer shocking to go out to dinner and have the waiter bring you the wine menu on a tablet or place your order with one."
In fact, a recent report from ABI Research found that there are more than 10 billion wirelessly connected devices across the market and 30 billion are expected to be out by 2020. Peter Cooney, practice director of ABI, said this is one of the main enablers bringing masses of data into prominence across industries. Future growth can be driven by these devices, as they give businesses of all kinds the ability to collect data collect in a way unsurpassed by any previous efforts.
Falzone said the ability for devices to communicate with each other and across the company can make operations much easier and create a world in which there is a better order and a greater level of service for customers. One example she gave was a business that could use a barcode scanner connected to a tablet to update the inventory system of a retail store in real time. These data collection systems can also feed into better analytics, point-of-sale tools and order tracking to be sure speed and transparency are achieved by the customer to make their transactions with the company much more smooth than they might otherwise be.
How to Implement a Great Mobile Data Collection Practice
It can often be difficult to figure out what the right tools are for having a great automated data collection practice. However, Donna Fritz wrote on Supply and Demand Chain Executive that bringing change can come by assessing current policies to see what is now in place and performing analysis to see what will need to happen next. Businesses should look at what their projections for mobile and data collection are, employee and customer feedback and what competitors are doing.
"Analyze your organization's use of ruggedized handheld devices or laptops for inventory, transportation and warehouse management," she said. "You may not have thought about replacing these 'mobile' devices in the near future, but new smartphones and tablets are rapidly evolving to perform these tasks, and it is worth investigating the enhancements that these devices and their compatible applications could provide."
After these steps, Fritz suggests:
Figuring out if the organization has the ability to put mobile and new software programs in place without any changes.
Developing a strategy that will allow devices to be used and data to be collected as safely as possible.
Having a roadmap for how these tools will be implemented and coalesced into the company.
Innovating well into the future and not giving up on pushing the tools and strategy forward once they are in place.
Randall Gamby wrote on TechTarget that the organizational infrastructure must be secured to be sure the company is properly bringing in big data and utilizing it. While data collection can be extremely useful for an organization, if improperly handled on the network, it has the potential to leak and be disastrous for the company. Gamby also suggested having infrastructure support for the technology and integrating the services with existing tools.
See how one RFgen customer is using tablets for in-field water testing, read the Antea Group case study now.