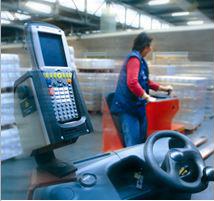 Warehousing software is becoming increasingly popular among businesses looking to cut costs and become more efficient, according to a new report from TechNavio. The company's research predicted that from 2012 to 2016, the warehouse management system market should have a compound annual growth rate of 16.15 percent.
In today's economic climate, smart companies are doing everything they can to make their operations and supply chain management more profitable and manageable. Due in part to rising trends such as globalization and e-commerce, companies need their warehouses to function as more than just middle points. Consumers are increasingly clamoring for the faster delivery of highly customized products, but meeting these requests is more difficult when businesses have far more supply chain partners that are spread out across the globe.
"With the increasing emphasis on supply chain visibility, anything that limits access to the status of your orders puts the company at a competitive disadvantage," EBN contributing writer Scott Koegler said in a recent post. "A delay of a few minutes may not seem insurmountable, but that short time can easily turn into hours or even days when left to manual processes. And updates delivered using spreadsheets or other detached tools make the situation even more difficult. These updates can become outdated as soon as they are created."
How Warehousing Software Solves Common Supply Chain Issues
The current marketplace within most industries is making warehouse environments more difficult to track and maintain using traditional means, which is why having a warehouse management system in place is so beneficial, TechTarget reported. Warehousing software streamlines operations by serving as a central hub for all warehouse-related activity. Instead of using multiple manual processes to track and oversee goods coming into and out of a warehouse, company officials can instead use one program to automate many of these workflows and ensure the accuracy of their records.
"You can go from 92 to 93 percent inventory accuracy to well over 99 percent, and it will pay for itself in less than a year," Steve Banker, ARC Advisory Group's service director for supply chain management, said about warehouse management software, according to TechTarget.
One of the biggest advantages of a warehouse logistics solution, according to the news source, is that it consolidates automated data collection efforts. Whether a company uses barcode software or other data collection methods, all of that information can be collected, stored and analyzed within one system. Other key benefits of warehouse management include:
Improved cross-docking to limit the amount of time goods spend within the warehouse
Better slotting to make sure items are placed in the best possible location inside the warehouse
Task management, which ensures that employees are as productive and efficient as possible
More effective yard and dock management to improve loading and unloading processes
How to Choose the Best Warehouse Logistics Solutions Provider
Although these solutions can offer innumerable benefits to a business looking to maximize the return on investment from its warehousing facilities, no logistics management system will be effective if the company does not use a good third-party solutions provider, Koegler wrote. He recommended that organizations pair up with a company that supports automation and offers technology that is compatible with what is already in place. The TechNavio report noted that lingering technology and integration issues may hamper the warehousing software market's expected growth, but those concerns can be effectively addressed by a quality third-party solutions providers with a proven track record of success.
"Because these third-party logistics providers (3PLs) specialize in operations that are typically not core competencies of their customers, they frequently offer services at costs that are compelling," Koegler wrote. "Still, not every 3PL delivers the same services, and when one of the missing pieces is real-time data about your shipments, the advantages of those lower costs can disappear quickly."